Super Bowl 2022 date, time, TV, pick: Bengals, Rams compete in back-and-forth thriller decided on final play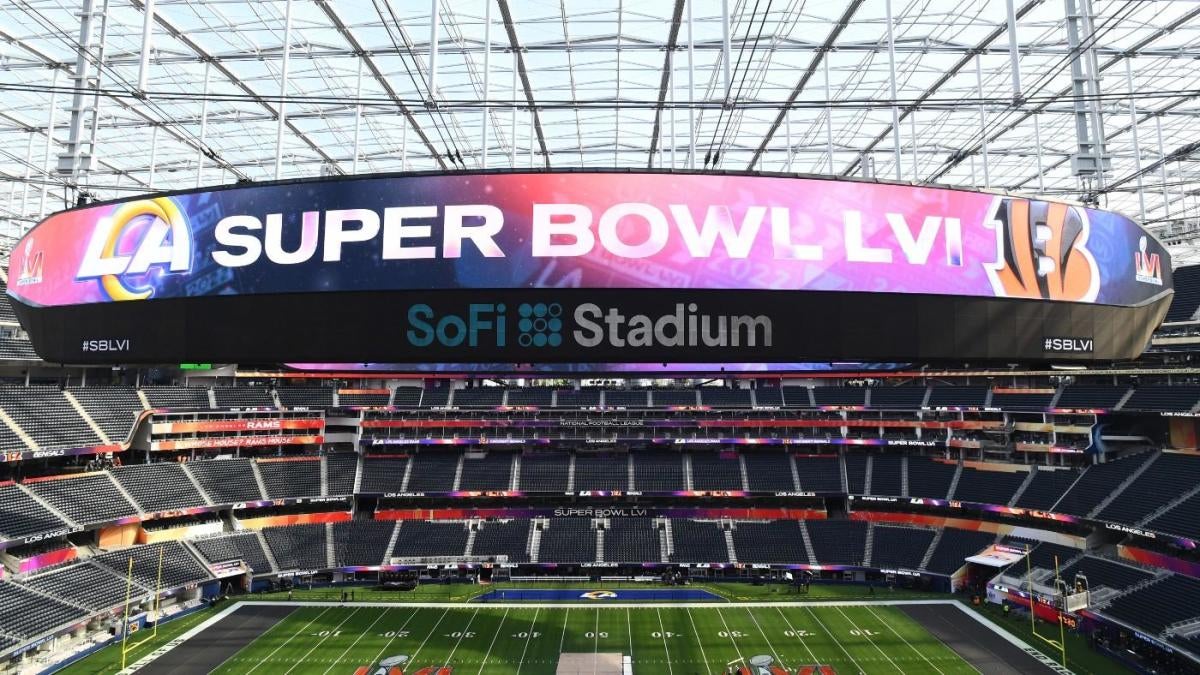 LOS ANGELES — Sending me to Los Angeles this week for Super Bowl LVI was one of the best ideas my bosses ever had. Let me just say that I am all for any idea that has me traveling to any place that has a beach, so obviously I agreed to go. 
However, now that I'm here, I'm starting to think that they only sent me so that I could come to emotional terms with my childhood. I wasn't going to turn this pick into an autobiography, but I almost feel like I have to if only because my life started with my dad (Jim Breech) MISSING MY BIRTH to play in Super Bowl XVI back in January 1982. Now, in his defense, I was his fourth kid and you're lucky if you even get one parent to show up at that point. Also in his defense, he was PLAYING IN THE SUPER BOWL. If he was playing in a Boggle tournament, I probably would have been upset, but since it was the Super Bowl, baby me decided not to hold a grudge against him. Also, I'm not even sure babies can hold grudges, so that might also be why I didn't hold a grudge against him. Anyway, this story didn't even have a happy ending because the Bengals ended up losing 26-21 to the 49ers in that Super Bowl. 
As for my dad, in his 13 seasons as the Bengals kicker (1980-92), that was one of two Super Bowls he played in. The other one is mostly remembered as the game where Joe Montana hit John Taylor for a touchdown pass with just 34 seconds left to play to give San Francisco a 20-16 win. In my family, Super Bowl XXIII is mostly remembered as the game where my dad would have won MVP if Joe Montana didn't exist. Let's listen to Boomer Esiason break it down the MVP situation from that game. 
Based on what my therapist has told me, every traumatic memory in my life can be traced back to a Bengals Super Bowl loss, which probably means I shouldn't even be watching the game on Sunday, but what does my therapist know?
Now, if you're thinking, "I can already tell that this is the least objective Super Bowl pick ever and this guy is obviously going to pick the Bengals," I will say to that I also have some ties to the Rams. Not only did I go to college with Rams coach Sean McVay — shoutout to Miami of Ohio — but I also once got to conduct a one-on-one interview with Rams owner Stan Kroenke, which I think makes me one of about seven people alive who have gotten to do that since he moved the team from St. Louis to Los Angeles following the 2015 season. Kroenke is not a big fan of being interviewed, but if you run into him at a local Starbucks, he'll be your new best friend. 
I now go to Starbucks twice a day any time I'm in any NFL city just to see if I can find an owner and make best friends with them. 
As for my pick, sure, I could take the Bengals because my dad used to play for them, but if I do that, then that means I'd be picking against a guy I went to college with and picking against my coffee buddy, Stan, and no one likes picking against their coffee buddy. 
So who am I going to take?
Let's get to the pick and find out.
Actually, before we get to the pick, here's a quick reminder to check out the Super Bowl picks from all of our other CBS Sports NFL writers, which you can do by clicking here. If that's not enough Super Bowl content for you, then I recommend clicking here and checking out the Pick Six podcast on YouTube. Will Brinson, Ryan Wilson and I are spending the week in L.A. together and we'll be putting out new podcasts every day, which means you get more of me, which I have to think is a good thing. 
For our latest podcast, we ranked Super Bowl storylines, because Super Bowl week can't start until you've ranked the storylines.  
Also, since I'll be in L.A. this week, feel free to start following me on Facebook or Twitter or Instagram, or none of them. I won't be offended. By the way, as someone who has lived in both southern California and Cincinnati, let me just say that the two cities with teams in the Super Bowl could not be more different. Los Angeles has Botox while the closest thing they have to that in Cincinnati is Botox flavored ice cream at Graeter's. In L.A., you'd get thrown in jail if you tried to put chili on your noodles, but in Cincinnati, you'll get in trouble if you don't. 
Alright, I'm going to stop comparing these two cities because I've delayed long enough, let's get to the Super Bowl pick. The faster we get there, the faster I can mentally prepare for all the hate mail I'm going to get from the fan base that I'm picking against. I love hate mail. 
Super Bowl LVI Pick
L.A. Rams (15-5) vs. Cincinnati (13-7)
Time: 6:30 p.m. ET (NBC)
Location: SoFi Stadium (Inglewood, Calif.)
Latest Odds:
Los Angeles Rams
-4.5
It's fitting that Cincinnati's mascot is a cat because I'm 99% sure Joe Burrow is the closest thing to an actual cat that the NFL has right now. I mean, I've watched every snap he's taken this season and I can say with almost absolute certainty that the man definitely has nine lives. Well, he HAD nine lives, but I think he's down to about four after the season he's had playing behind the Bengals' offensive line.
Burrow was sacked more than any other quarterback this season (51 times), which is notable, because it marked the first time in NFL history that the most-sacked quarterback in the NFL led his team to the Super Bowl. Burrow gets sacked so often that I'm now more surprised when he doesn't get sacked on a play. 
For most teams, letting your quarterback get sacked 51 times would usually be a recipe for disaster, but not the Bengals and that's because Burrow seems to thrive on getting beat up. Usually, when you put pressure on a quarterback, they tend to play worse, but Burrow somehow gets better.
The only reason I'm bringing this up is because this could potentially negate the Rams' biggest advantage in Super Bowl LVI and that advantage is that their defensive line should be able to destroy Cincinnati's offensive line. The Rams have a human being on their team in Aaron Donald who is biologically designed to destroy opposing quarterbacks. If you told me he was 7% dinosaur, I'd believe it. 
Donald might get six sacks by himself against the Bengals offensive line, but he won't be alone because he's going to have Von Miller, Leonard Floyd and plenty of other guys helping him pressure Burrow. Of course, if we've learned one thing about the Bengals this postseason, it's that they can still beat you even if you destroy their offensive line. Just ask the Titans about that. They sacked Burrow NINE TIMES and somehow still lost the game. 
If the Rams can't sack Burrow, that could turn into a huge problem for Los Angeles because the Bengals' biggest advantage in this game is definitely their receivers going up against the Rams' secondary. Sure, the Rams have Jalen Ramsey, but he can't cover everyone, although him trying to cover everyone might actually be the Rams' best option on Sunday. Ramsey had the fifth-highest Pro Football Focus grade in the NFL this year, but no other defensive back in their secondary even ranked in the top 70. 
Basically, Joe Burrow might be the first quarterback ever to throw for 500 yards in a game where he gets sacked 19 times. 
That being said, the Bengals secondary could also end up struggling and that's mainly because they have to try to stop the one guy who no one has been able to stop this year: Cooper Kupp. The good news for the Bengals though is that the Rams are beatable even if Kupp has a huge game. Kupp's magic number this year has been 125 yards: In games where Kupp has finished with 125 yards or more, the Rams have gone 8-0, but they're just 7-5 when he's been held under 125 yards. Basically, you don't have to completely shut down Kupp to beat the Rams, you just have to make sure he doesn't destroy you. 
The Bengals are the underdog in this game, which might actually be a good thing, because underdogs are on a roll in the Super Bowl. Since 2010, underdogs of three or more points are 5-1 in the Super Bowl with the only loss coming from a Falcons team that BLEW A 28-3 LEAD (I am required by law to mention that blown lead in every Super Bowl pick I make for the rest of time). 
I think this game ends in one of two ways: Either the Bengals win a close one in the fourth quarter or this turns into a replay of last year's Super Bowl where one team's quarterback gets so dominated by the other team's defense that it turns into a blowout. 
I'm going with option A. 
As the son of a former Bengals kicker, I feel like the only way for me to go with this pick is to predict that it ends on a field goal by the current Bengals kicker, so that's what I'm going to do. 
SUPER BOWL LVI PICK: Bengals 27-24 over Rams. 
Record picking Bengals games this season: 15-5 straight up (3-0 in playoffs), 11-7-2 against the spread (3-0 in playoffs)
Record picking Rams games this season: 14-6 straight up (2-1 in playoffs), 11-9 against the spread (2-1 in playoffs)
Last Week 
Best pick: Two weeks ago, I predicted that the Bengals would go into Arrowhead Stadium and shock the Chiefs to advance to their first Super Bowl in 33 years and guess what happened? The Bengals went into Arrowhead Stadium and shocked the Chiefs to advance to their first Super Bowl 33 years. Now, did I know the Bengals were going to come back from an 18-point deficit to tie the record for the largest comeback in conference title game history? Of course I did. As soon as I saw Tom Cruise pop on the screen to give the introduction to the AFC Championship game, I knew there was no way the Bengals were losing. 
I also would have known the Bengals were going to win if ALF had done the introduction, because he was also big in January 1989. 
By the way, the best thing about the Bengals win is that it gave us quite possibly the best reaction video compilation in the history of reaction video compilations. 
There are nuns in that video. Now you know why I can't pick against the Bengals in the Super Bowl. 
Worst pick: My other pick last week was the 49ers over the Rams and with 14 minutes left to play in the fourth quarter, I thought it was a lock. The 49ers were up by 10 and if you've watched the NFL over the past few years, then you know that NO ONE has ever blown a lead that big in the fourth quarter of a playoff game, well, except for the 49ers. Over the past three seasons, NFL teams are 26-2 when leading by double digits in the fourth quarters of a playoff game and that record breaks down like this: 
The 49ers are: 3-2
All other teams combined are: 23-0
The 49ers are so bad in the fourth quarter that they shouldn't even be allowed to have a four in their name anymore. I will be calling them the 39ers until they prove to me that they can actually put away a team in the fourth quarter of a playoff game. 
Alright guys, I have some sad news. This is the final picks column of the season, which means I am now off for the next seven months. Just kidding, that's not how things work. I'll still be writing over the next seven months, but the picks won't be returning until September. If you can't wait that long, then I highly suggest you sign up for our NFL newsletter, which I'm in charge of. It's basically the offseason version of this picks column except without the picks. It comes to your email box every weekday and you can sign up by clicking here (Just look for the Pick Six newsletter). 
If you sign up, I'll see you soon. If you don't sign up, I'll see you in September for the opener, and if that opener is in Cincinnati, then Skyline chili on me! 
Picks record
Straight up in conference title games: 1-1
SU overall in playoffs: 9-3
Against the spread in conference title games: 2-0
ATS overall in playoffs: 8-4
Final 2021 regular season record
Straight-up: 174-97-1 (Ranked second overall at CBSSports.com)
Against the spread: 138-131-3
Very important note: If the Bengals win, I will be crowned the OVERALL PICKS CHAMPION at CBSSports.com. For the playoffs and regular season combined, I'm tied with fantasy guru David Richard for the best record and he's picking the Rams, so if you think about it, I almost have as much riding on the Super Bowl as the Bengals. 
---
You can find John Breech on Facebook or Twitter and if he's not doing one of those things, he's probably looking for a place to get Botox in Los Angeles.