Miami targets Oregon coach Mario Cristobal, Clemson AD with Manny Diaz still employed, per reports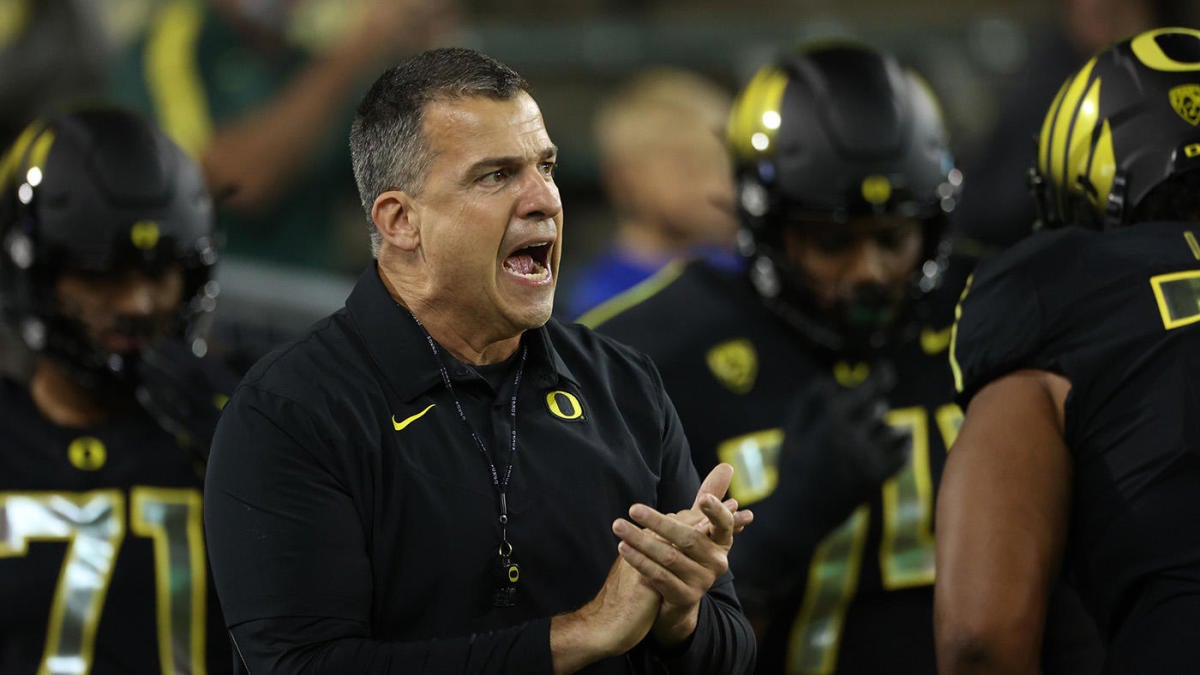 The University of Miami is planning to pursue Oregon coach Mario Cristobal as its next head coach, according to multiple reports, despite still having a sitting head coach and no athletic director. Barry Jackson reports Miami is expected to 'make a run' at Cristobal while the Oregonian's John Canzano notes that Miami officials were hoping to speak to Cristobal after Friday's Pac-12 Championship Game.
To cement its pitch, Canzano reports that Miami is targeting Clemson athletic director Dan Radakovich. However, CBS Sports' Dennis Dodd reports that no decision had been made. Radakovich started his athletic administration career by getting an M.B.A. from Miami, but is best known for transforming Clemson into a national power after taking the job in 2012. 
Oregon isn't going down without a fight, however. Canzano reports the university has put together a monster contract extension, described as "Brian Kelly and Lincoln Riley dollars." While Riley's contract at USC is not public, Kelly's deal at LSU will pay him more than $100 million over 10 years if he lasts through the contract. An announcement on Cristobal's decision is expected by Tuesday. 
Following No. 10 Oregon's 38-10 loss to No. 17 Utah in the Pac-12 Championship Game on Friday Cristobal denied he had any discussions with Miami and hinted that Oregon was working on a new contract for him.
"When you say someone's offer, I haven't talked to anyone," Cristobal said. "Let's not create narratives as we sit in this press conference. Oregon is working on some stuff for me and that's what I have right now."
However, Cristobal was non-committal on his future with the Ducks.
"I don't know what to tell you," Cristobal said. "If I had any plans if I had a decision to make, or if I had something to report, I would," said Cristobal. "I wouldn't keep it one way or the other. Do I expect people to come at me, yeah I do, it happens every single year. Is there anything else to report besides that, there is nothing else to report besides that. If there is, when there ever is, if there ever is, I will make sure to get it out there as quickly as I can."    
Cristobal was born in Miami, played for the Hurricanes and was previously head coach of FIU, which is located in Miami. Cristobal, the first Cuban American coach in FBS football, is as intimately associated with one city as any coach in college football. However, even if his alma mater opts to move on from current coach Manny Diaz in the coming days, it could have a hard time luring Cristobal from his perch atop the Pac-12. 
In four seasons as the coach of the Ducks, Cristobal has a 35-13 record, including two consecutive Pac-12 championships.
Miami, conversely, is in disarray following the resignation of athletic director Blake James after eight years. After leading the Hurricanes to an 8-3 record and No. 22 postseason ranking, Diaz was shaky in 2021. Miami started the year No. 14, but finished just 7-5 after a wave of injuries. Offensive coordinator Rhett Lashlee just left to become the head coach at SMU. 
Diaz, notably, is equally as tied to the city of Miami as Cristobal. The fellow Cuban American was also born in Miami and is the son of a former Miami mayor of the same name. However, landing Cristobal and Radakovich would be a transformational set of hires at Miami, and would show commitment to athletics that the university has not shown since the glory days. 
"I want to make clear that the Board of Trustees and I, as president, recognize the essential part of our brand and reputation derived from athletics," Miami president Julio Frenk wrote in an open letter in September. "We are fully committed to building championship-caliber teams at the U." 
The university has not won a team championship of any sort since winning the football and baseball national championships in 2001. Miami football has not won the ACC since entering the league in 2004. Since the ACC brought back the conference championship game in 2005, the Hurricanes are tied for last in ACC Coastal titles with Virginia, North Carolina and Duke.