Doctors in Canada sought more mental health support during COVID-19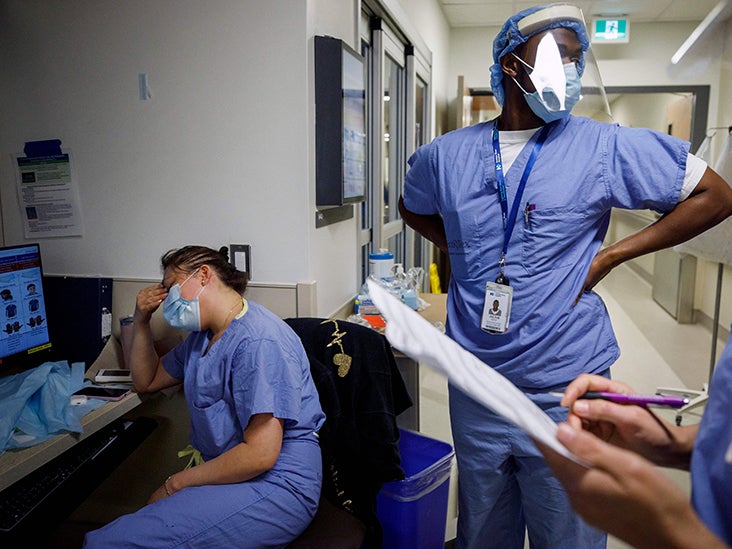 An observational study examined data from around 34,000 physicians in Ottawa, Canada.
Researchers found physicians participated in nearly 26% more mental health and substance use visits during the first year of the COVID-19 pandemic compared to the year prior.
The study team believes the increase is attributable to both increased stressors during the pandemic and additional access to mental health services through virtual outpatient options.
There is no denying the fact the COVID-19 pandemic has had an impact on the mental health of people worldwide. A recent study found the pandemic increased cases of major depressive disorder by 53 million and anxiety disorders by 76 million globally.
But for those working on the front lines of the pandemic — such as healthcare workers — how has the situation affected their mental health?
A team of researchers from the University of Ottawa Department of Family Medicine and The Ottawa Hospital in Canada is helping answer that question. Their new study has found a link between the pandemic and the number of outpatient healthcare visits physicians participated in for mental health and substance use concerns.
Researchers believe their study results will help shed light on the need for increased mental health services for the medical community.
The results from this population-based cohort study appear in JAMA Open Network.
Before the COVID-19 pandemic, studies showed an elevated rate of mental health issues among healthcare workers. One such study in 2015 found resident physicians were at high risk for depression. Another study in 2018 examined burnout among United States healthcare professionals, finding over one-half of physicians and one-third of nurses had symptoms affecting their mental health.
Interestingly, other studies have linked higher levels of substance misuse issues to healthcare professionals. According to American Addiction Centers, approximately 4.4% of medical workers have a problem with heavy alcohol consumption. And about 5.5% of healthcare personnel experience illicit drug use.
Dr. Daniel Myran, a family physician, public health and preventive medicine specialist, and postdoctoral fellow at the University of Ottawa Department of Family Medicine and The Ottawa Hospital, is the lead author of this current study.
According to him, multiple surveys have found high levels of mental distress in healthcare workers, including physicians, during the COVID-19 pandemic.
"However, because these surveys generally look at one or two points in time, it limits our understanding of whether these concerning rates of mental distress reflect a worsening during COVID-19 or reflect pre-pandemic baselines," Dr. Myran told Medical News Today. "In addition, most surveys have low response rates, which raises concerns that their results may not represent the overall mental health of physicians."
The team addressed this by taking an alternative approach, looking at changes in mental health care-related visits that physicians made during the pandemic. "Because we were able to follow mental health visits before and during the pandemic, we were able to quantify how visits changed over time," Dr. Myran explained.
Dr. Myran and his team conducted a population-based cohort study of 34,055 physicians, fellows, and residents registered with the College of Physicians and Surgeons of Ontario between 1990 and 2018. All study participants were eligible for the Ontario Health Insurance Plan. The researchers collected the data from the Ontario Health Insurance Plan from March 2017 to March 2021.
During the study, researchers examined all in-person and virtual outpatient visits via telemedicine to either a psychiatrist or primary care physician. Researchers considered all psychiatry visits mental health or substance use-related medical visits. In their study, the team also included any visits to a primary care physician that included a diagnostic or fee code related to mental health or substance use.
The research team also investigated specific demographic characteristics, including:
age
sex
residence, whether urban or rural
previous mental health history
According to the study, data on race and ethnicity was not available. And the researchers also looked at the data by physician specialty to see if a specific area of the healthcare industry was more prone to mental health concerns.
According to the study results, physicians participated in 29,460 mental health visits during the first year of the COVID-19 pandemic.
This is almost a 26% increase compared to the 23,574 mental health care visits physicians made the year prior.
When looking at mental health visits, researchers found anxiety was a frequent cause in both the first year of COVID-19 and the year before. Indeed, anxiety visit frequency increased during the first year of COVID-19 from 66.5% to 69.1%.
Researchers found that drug and alcohol-related visits saw a slight decline to 5.8% during the first year of COVID-19 from 7.4% the year before.
When looking at demographic information, researchers reported female medical professionals and healthcare workers in urban areas had a larger percentage of mental health and substance use visits. And among physician specialties, psychiatrists had the highest number of mental health care visits during the first year of COVID-19, while surgeons had the lowest.
The research team also reported that physicians without a history of mental health issues or substance misuse had the largest increase in the rate of visits compared to physicians with such a history. "This finding may reflect how the pandemic created new and highly stressful challenges for physicians," Dr. Myran explained.
"These challenges may have caused a deterioration in the mental health of doctors who otherwise never would have needed care."
"Another possibility is that changes in how health services were offered during COVID-19 — offering virtual mental health care — decreased important barriers to access for some physicians who used this opportunity to seek care for preexisting mental health concerns that they had never sought treatment for before," Dr. Myran added.
In general, Dr. Myran believes the increased access to virtual options through telemedicine may partially explain the overall increase in mental health visits during the COVID-19 pandemic. "Physicians with mental health concerns that pre-dated COVID-19 may have used these services during the pandemic, as they were more accessible and less visible, reducing concerns over stigma," he said.
Dr. Myran feels this research helps support the continuation of virtual mental health and substance use medical care for healthcare workers.
"While we suspect that much of the increase in visits during the pandemic is related to increased stressors and challenges, some of this increase may be related to better mental health access and reduced stigma."

– Dr. Myran
"Ongoing access to virtual care services may be an important component of a post-pandemic mental health strategy aimed at improving the mental health of physicians and health care workers."
Dr. Ken Duckworth, chief medical officer of the National Alliance on Mental Illness (NAMI), agrees. "It doesn't surprise me that doctors are taking advantage of (teletherapy) — there's probably no time in the middle of a busy day to see a mental health practitioner," he told MNT.
"The pandemic represented this tremendous switch being flipped towards the understanding that teletherapy is a safe way to deliver effective care. Teletherapy is the silver lining to this really dark cloud we're dealing with."
Dr. Duckworth views this study's findings as positive, as they show a change in the "old school" mentality that doctors would ever need or require help. "The idea of physicians accepting help, discussing their vulnerabilities, taking care of themselves under stress, so they can take good care of other people is to me, a very positive development," he said.
"The stressors of the pandemic are clear — they impact anybody who's in a frontline role. I would be very distressed if the finding was that physicians in the context of the pandemic were not seeking mental health and addiction support."
As for the next steps, Dr. Myran plans to look at the time after the start of the COVID-19 pandemic. "Our study only looked at the first year of the pandemic, but the situation now is very different than it was a year ago," he said.
"We plan on continuing to understand the longer-term changes in mental health visits in physicians during the pandemic. We are also interested in understanding predictors of mental health care use by physicians so that services and interventions can be better targeted to meet physician needs."
Dr. Duckworth added he would like to see a study of this type conducted for United States physicians. And for frontline workers seeking mental health resources, he suggests visiting the Frontline Wellness section of NAMI's website for free, confidential resources for all frontline workers, including healthcare professionals.