Washington coach Jimmy Lake suspended after getting physical with player in loss to rival Oregon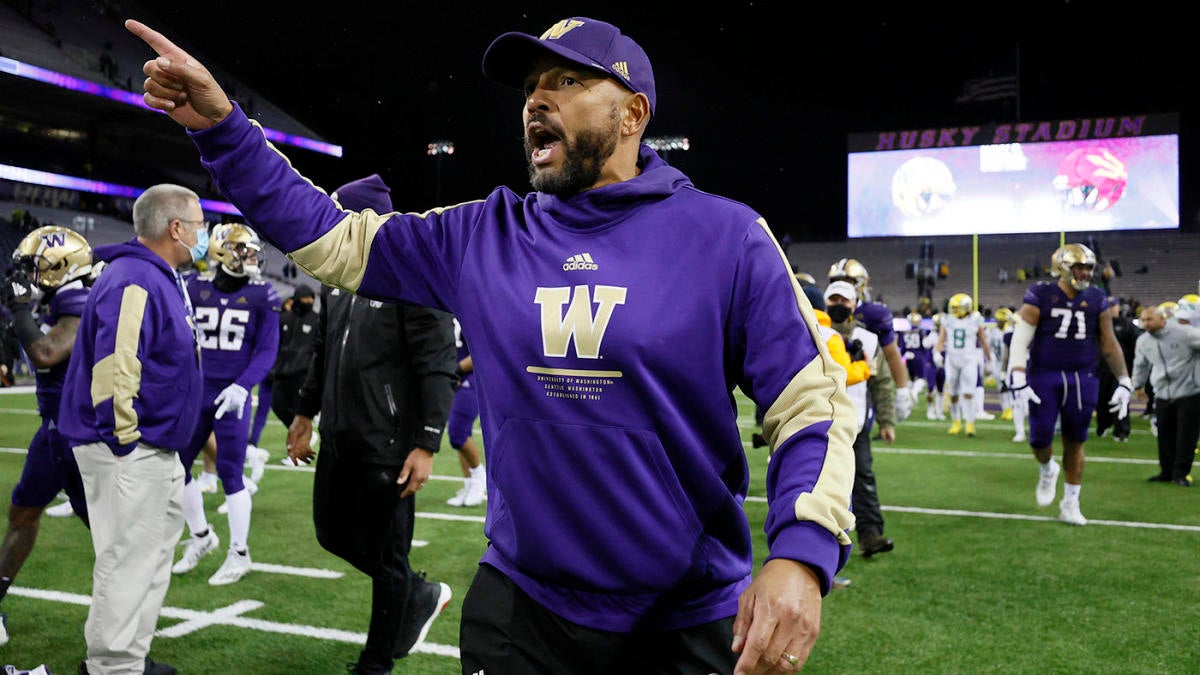 Washington has suspended second-year coach Jimmy Lake for one week following a home loss to rival Oregon that capped an embarrassing week for the program and the embattled coach. Lake, just 7-6 as the coach of the Huskies, shoved and smacked a player in the helmet with a play sheet during the game.
He will miss Washington's game this Saturday against Arizona State.
"Our staff has spent the last 24-plus hours reviewing video of the incident, as well as speaking with Coach Lake, the involved student-athlete and several other student-athletes and members of the staff, and I have made the decision to suspend Coach Lake for next Saturday's game against Arizona State. [We] are in agreement that while we do not believe that his actions were intentional or deliberate, we can have no tolerance for a coach interacting with a student in the manner Coach Lake did. We have high expectations of conduct for our coaches, and we will not shy away from those expectations," said Washington athletic director Jen Cohen in a statement.
Losing to Oregon was expected, but the way in which Washington fell was infuriating to its fans. Lake decided to punt down eight points with under 2 minutes to go in the game. Compounding the situation was an errant snap that launched through the end zone for a safety, essentially eliminating any possibility of a comeback. Lake was also caught on camera striking redshirt freshman linebacker Ruperake Fuavai in the face in an attempt to break up an altercation with Oregon players. 
Lake later released a statement on Twitter apologizing for the incident and affirming the university's decision to suspend him.
"I want to apologize to every member of our team, and in particular to Ruperake Fuavai, for my actions during our game on Saturday," said Lake. "I also want to apologize to President Cauce and Jen Cohen for putting the university in this position. I fully accept the decision that was made. Our team has a right to expect better than what I display on Saturday, and I'm committed to doing just that — being better so our program will reflect all that's good about being a Washington Husky." 
Despite being named the successor to Chris Petersen ahead of the team's Las Vegas Bowl appearance less than two years ago, Lake has quickly fallen out of the good graces of the fans. An assistant under Petersen dating back to their time at Boise State, Lake's Huskies opened this season with a stunning 13-7 home loss to Montana out of the FCS. 
The offensive slog on display against the Grizzlies was only a taste of what was to come this season. Washington's offense ranks 10th in the Pac-12 in touchdowns scored and points per game, ahead of only Colorado and Arizona. The frustration surrounding the inability to put points on the board was then coupled by Lake's bizarre comments ahead of the game against the Ducks, in which the coach downplayed the program's recruiting battles against its Pac-12 rival. 
"That is way more pumped up than it is," Lake said. "Our battles are really the schools we go against, that have academic prowess like the University of Washington — Notre Dame, Stanford, USC. We go with a lot of battles, toe to toe, all the way to the end, with those schools. So I think that's made up and pumped up in [the media's] world. In our world, we battle more academically prowess teams."
Lake led the program to a 3-1 record and the Pac-12 North title during the COVID-19-shortened 2020 season, but the Huskies were unable to participate in the Pac-12 Championship Game due to COVID-19 safety protocols. 
Washington faces off against Arizona State at 6 p.m. Saturday at Husky Stadium. The Huskies have to win two of their last games against ASU, Colorado and Washington State to earn a trip to a bowl game. Washington has not finished below .500 since 2009.