New Cowboys WR James Washington explains what went wrong with Steelers, details his plans in Dallas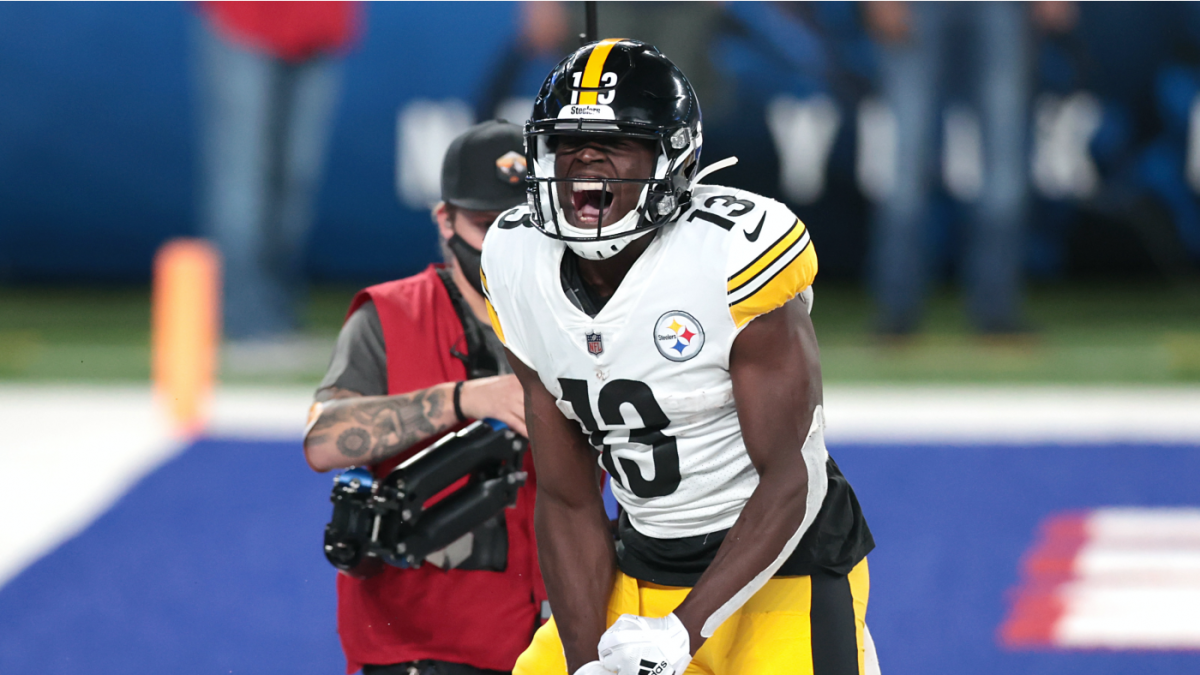 James Washington went to Pittsburgh in 2018 after an incredibly successful college career at Oklahoma State. Washington showed glimpses of that potential with the Steelers, but it never fully materialized during his four years with the team. 
Washington, a Texas native who currently owns a ranch 3.5 hours away from Dallas, signed a one-year deal with the Cowboys earlier this month. The former Biletnikoff Award winner is looking forward to having more opportunities to display his talents, something that largely alluded him during his time in Pittsburgh. 
"I feel like with everything that transpired at Pittsburgh, I didn't really get to show my full self," Washington said in an interview with USA Today. "We had a crowded room at receiver. But nothing against anyone else, I feel like there's a lot of meat left on the bone. I didn't really get to fully develop myself and make strides like I wanted to.
"I'm going to take full advantage of this opportunity in Dallas. Do what I can so that they get 110% of me and I can reach my full potential."
Drafted to help fill Martavis Bryant's spot in the offense, Washington spent the 2018 season playing alongside All-Pro Antonio Brown and JuJu Smith-Schuster, who won the Steelers' team MVP award that season. Washington also had to compete for reps with former Cowboys wideout Ryan Switzer, who developed a quick rapport with quarterback Ben Roethlisberger. Washington, whose impressive training camp elevated outside expectations, finished his rookie season with just 16 receptions on 38 targets for 216 yards and a score. 
Washington appeared to turn a corner in 2019. With Brown out of the lineup, and with former college teammate Mason Rudolph starting half of Pittsburgh's games, Washington set career highs with 44 receptions for 735 yards and three touchdowns. In Week 12 of that season, his 79-yard touchdown catch proved to be the winning score in a road win over the Bengals that helped keep the Steelers' playoff hopes alive. 
While he caught a career-high five touchdowns in 2020, Washington's overall production dipped that season, as he often played behind Smith-Schuster, 2019 third-round pick Diontae Johnson and 2020 second-round pick Chase Claypool. Washington played in less than 50% of the Steelers' offensive snaps during his final seven games with the team, as it became clear that he was not going to be part of Pittsburgh's plans beyond the 2021 season. 
Washington did display his ability as a deep threat, big play receiver in Pittsburgh. He averaged 14.3 yards per catch with the Steelers while making several impressive combat catches against tight coverage. The 5-foot-11, 213-pound receiver does his best work in the slot, where he can use his toughness, athleticism and speed to make plays underneath or over the top. 
In Dallas, Washington is hoping to be more of the player that he was at Oklahoma State, where he caught 226 passes for 4,472 yards and 39 touchdowns in four seasons. Washington will join a Cowboys receiving corps that includes Michael Gallup (who was recently signed to a multiyear  contract) and CeeDee Lamb. Dallas recently traded former Pro Bowler Amari Cooper to the Browns in exchange for a fifth-round pick and a swapping of sixth-round picks. 
Washington will join forces with Cowboys quarterback Dak Prescott, who last season completed nearly 68.8% of his passes for 4,449 yards with 37 touchdowns and 10 interceptions. Led by Prescott's passing and a top-10 scoring defense, the Cowboys won the NFC East division title for the first time since 2018. Washington said that he hopes to add his skillset to an offense that "is like a highlight reel every Sunday." 
"I want to grow my game to be who I was in college, because I feel like who I was in college is who I'm meant to be," Washington said. "I want to be that downfield threat, that physical guy, get involved in the run game. I want to do everything."