Hawks vs. Cavaliers score, takeaways: Trae Young explodes for 38 points to help Atlanta clinch No. 8 seed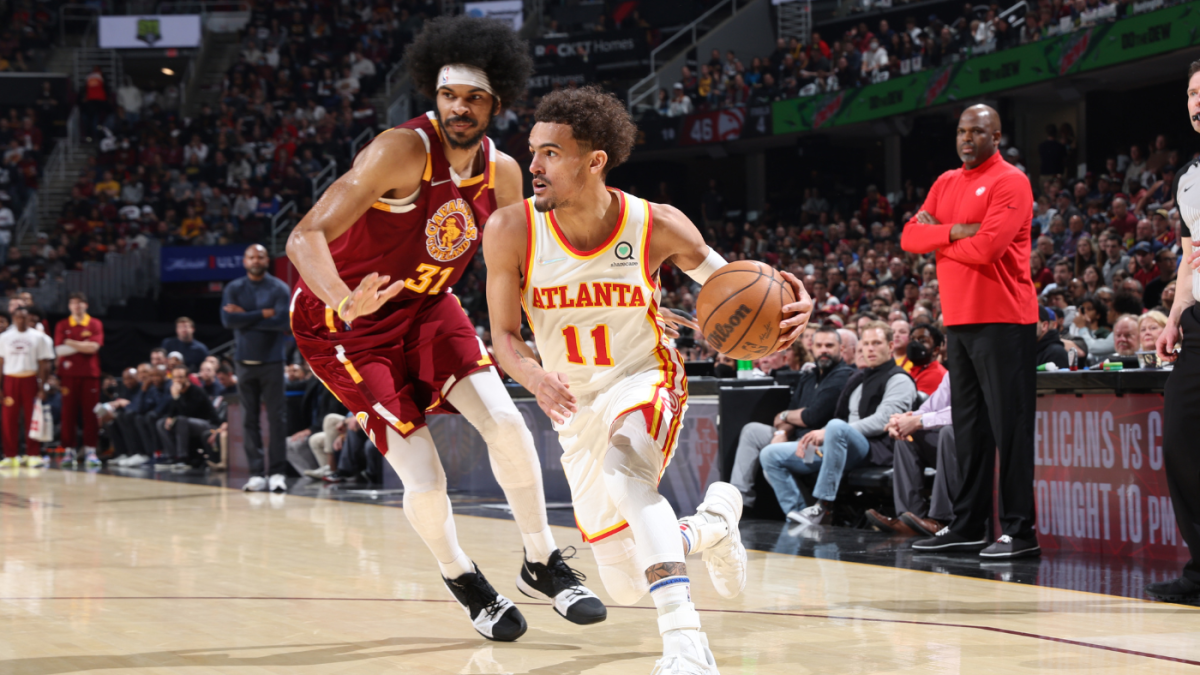 With both of their respective seasons on the line, it was the Atlanta Hawks who pulled out a 107-101 win over the Cleveland Cavaliers on Friday night. Now, the Cavs will be headed home for the offseason, while the Hawks will move on to the playoffs. With the win, the Hawks secured the eighth overall seed in the Eastern Conference and a first-round matchup with the top-seeded Miami Heat.
Trae Young led the way for the Hawks with 38 points and nine assists, while Bogdan Bogdanović added 19 points off of the bench for Atlanta. Lauri Markkanen paced the Cavaliers with 26 points and eight rebounds, and Darius Garland had 21 points and nine assists, but ultimately their production wasn't enough. 
Here's a look at three takeaways from Atlanta's play-in win over Cleveland.
Please check the opt-in box to acknowledge that you would like to subscribe.
Thanks for signing up!

Keep an eye on your inbox.

Sorry!

There was an error processing your subscription.

1. A tale of two halves for Trae Young
Trae Young got off to a slow start in Cleveland on Friday night, as he had just six total points in the first half. Given his subpar production to that point, it's not surprising that his team was down by 10 at the half. However, in the second half, Young exploded for 32 points, and his production was a huge part of the reason that the Hawks were able to storm back and pull out a win. In the second half. Young scored or assisted on 43 of Atlanta's 56 points. That's more than the Cavs scored in the whole half (40). 
The Hawks can look like a completely different team depending on how Young is playing. In the first half, they looked pretty pedestrian on the offensive end, but in the second half, they looked like a well-oiled machine with Young raining down shots from outside while also generating ample open opportunities for his teammates. In addition to scoring a game-high 38, Young also dished nine assists — five of them in the second half. Cleveland had no answers for him on the defensive end down the stretch, and that proved to be the difference in the game.  
2. No Capela, no problem
It didn't look great for the Hawks at halftime. They were down by double-figures, and it was announced that they would be without their starting center Clint Capela for the rest of the game due to a hyperextended knee. But, while Capela has been very valuable to Atlanta this season, they fared fine without him in the second half. The Hawks downsized in his absence, as they opted to go to Onyeka Okongwu in Capela's place. This move opened up the floor for Atlanta a bit and gave Young a little more space to work with. 
Though they were able to get by without Capela against Cleveland, that's not necessarily something they want to have to do. Now that they're moving on, Capela's status will be something to keep an eye on as he is set to undergo an MRI on Saturday. Obviously, the Hawks will want to be as healthy as possible for a tough series against the Heat.
3. Plenty of reason for optimism for Cleveland moving forward
The Cavaliers' season has come to an end and it didn't result in a playoff berth, but there's still plenty of reason for optimism in Cleveland. The Cavs secured their first winning season since LeBron James left in 2018, which is an accomplishment in itself. It's possible that their record would have been even better if they weren't hit with some injury issues to key contributors like Jarrett Allen, Ricky Rubio and Collin Sexton.
Darius Garland blossomed into an All-Star this season, and rookie big man Evan Mobley looked like a future All-Star himself. In the meantime, he's likely to win the Rookie of the Year Award. With those two, the Cavs have a formidable young duo to build around moving forward. With a little bit more seasoning, they could potentially grow into a legitimate contender. So, while it ultimately ended in disappointment, this season was still a major step in the right direction for the Cavs.