Forget big business, Utah lawmaker wants to deregulate … lemonade stands?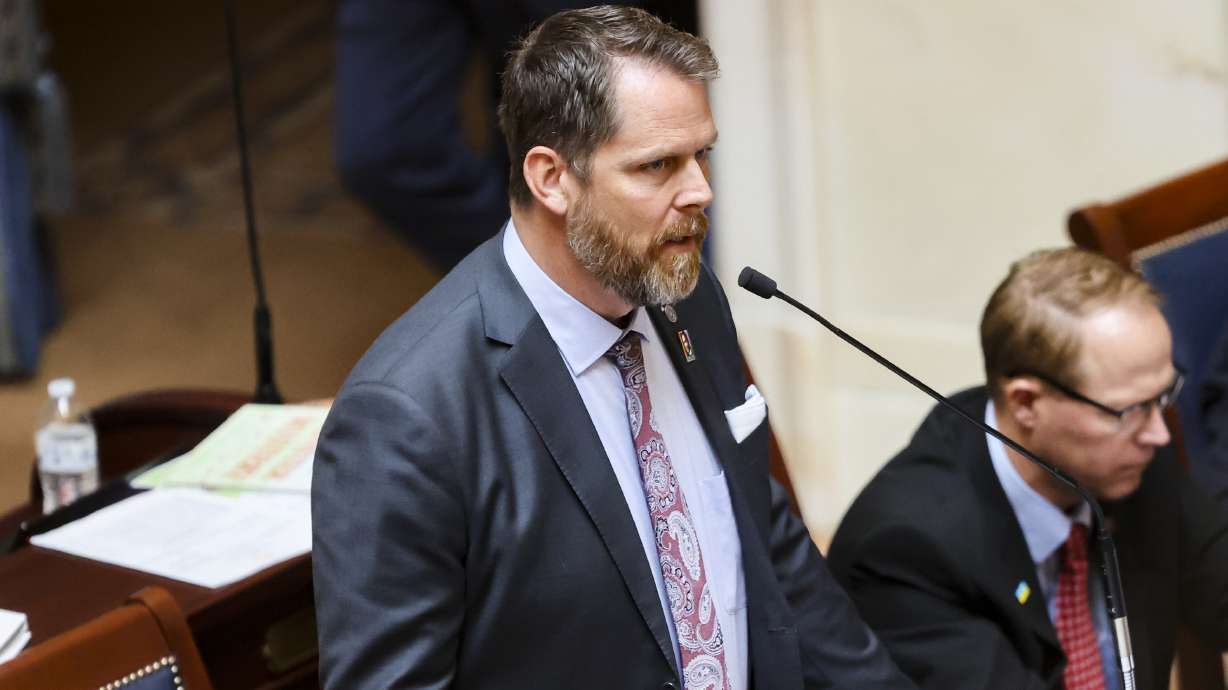 Sen. Jake Anderegg, R-Lehi, seen here at the Capitol on March 3, 2022, wants to protect minor-operated businesses, like lemonade stands, from regulation he says get in the way of teaching kids business skills. (Mengshin Lin, Deseret News)
Estimated read time: 3-4 minutes
SALT LAKE CITY — Utah leaders regularly tout the state as one of the nation's most "business-friendly," and on Tuesday advanced a bill to remove regulations for some of the smallest businesses out there: lemonade stands.
Sen. Jake Anderegg, R-Lehi, said he would like to see lemonade stands operated by children be exempt from laws regulating farmers' markets, in the name of fostering the entrepreneurial spirit among Utah youth.
"Let's just be frank: There's a bit of a buyer's beware when you're buying from some of these kids," he told a legislative committee Tuesday. "Like when you drive up to the lemonade stand and they're like, literally using their hand to mix it. I want to help them so I'm gonna buy it, but I'm not gonna drink it."
Anderegg is sponsoring SB151, which would exempt minor producers and operators from rules requiring farmers' market vendors and other direct sellers to inform customers that their food is not officially licensed or certified by the state. He said consumers should understand that kids are just trying to learn the basics of running a business, and simply don't eat the food if they're at all concerned about the preparation.
SB151 defines a minor-operated business as one that is operated by an individual who is under 18 years old and is "not regularly engaged in selling items."
"I just think we've got to maybe step back and not be quite so pedantic," he said. "If you eat something and get diarrhea for a week, you probably should have known that it maybe was not a good idea."
"I want to help these kids learn principles of self-sufficiency," he continued. "I want these kids to learn how to make money in capitalism. I want them to learn how to calculate what their cost of goods sold is and determine what an appropriate markup should be so that they can actually turn a profit. Those are invaluable skills that so many of these kids are learning, and I just don't think that we need to be bombarding them with additional regulation."
Anderegg didn't say whether children have been threatened with legal action based on the current farmers' market regulations.
Sen. Kirk Cullimore, R-Sandy, somewhat jokingly asked Anderegg if loosening the regulations would open up the possibility of someone trying to exploit the labor of children.
"I'm just wondering what guardrails this bill has to prevent farmer Joe from taking advantage of the local Boy Scout troop to skirt government regulations," he asked.
"Farmer Joe is a crafty person," Anderegg said. "I know that was said facetiously and in jest, but there is an economy of scale. Farmer Joe has to produce a certain amount of tonnage per acreage to even be profitable, and the Scout troop is not going to meet those yield amounts. So I think there's a natural barrier to entry for that type of scenario."
Sen. Scott Sandall, R-Tremonton, asked about the definition of a minor-operated business, pointing out that what it means to be "not regularly" involved in business could be up for interpretation.
Anderegg acknowledged the language could be ambiguous and said he plans to work on a clarifying amendment to the bill before it hits the Senate floor.
SB151 ultimately passed with a unanimous recommendation from the Senate Business and Labor Committee.
×
Most recent Utah Legislature stories
More stories you may be interested in