College Football Power Rankings: Oklahoma jumps Cincinnati as Big Ten may be in playoff trouble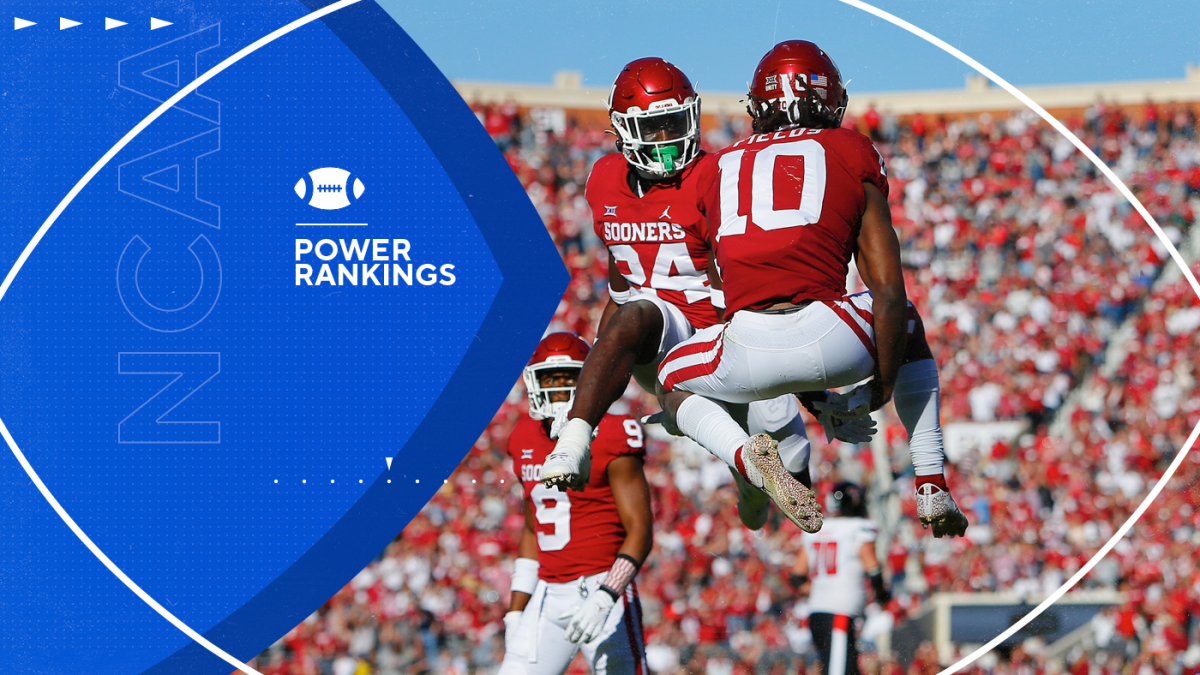 CBS Sports graphic
The Big Ten is in trouble, College Football Playoff trouble. Boiled down, it looks like this: The conference may be one Ohio State loss away from being knocked out of the playoff altogether.
Thanks to Purdue's upset of previously No. 3 Michigan State, everyone in the Big Ten has at least one loss. That's not a good place for a conference to be in entering the second week of November.
The Buckeyes will likely be the unanimously highest-ranked Big Ten team this week; they are in the new College Football Power Rankings. For now, that makes Ohio State the Big Ten's best chance to advance to the playoff.
Michigan State took a tumble at Purdue that may have knocked it out of the playoff chase. The Boilermakers are getting good at that, beating their second top-five opponent this season (Iowa being the other) and 17th all-time as an unranked team, most in FBS history.
Michigan might be in the best position despite its relatively low ranking. It absorbed that Michigan State loss and once again finds itself tied with the Spartans, a game behind the Buckeyes in the Big Ten East. Beat Penn State, and yes, Ohio State down the stretch, and the Wolverines could vault into a playoff spot themselves.
This is a big deal with expansion a complete jump ball and the Big Ten having missed two of the last four playoffs.
Elsewhere in the Power Rankings, Oklahoma jumped Cincinnati despite it being an off week for the Sooners due to the Bearcats' recent level of play. It's one thing to want to be a playoff team, but as CBS Sports bowls expert Jerry Palm wrote Sunday, a team like Cincinnati needs to play like one, too.
Here's how the Power Rankings look with four weeks left in the regular season.
Biggest Movers

9

Purdue


4

Michigan State

| Rk | Teams |   | Chg | Rcrd |
| --- | --- | --- | --- | --- |
| 1 | Georgia | Amid a huge (victory margin) win came a small one. For the first time in 11 games, Missouri covered the spread. Mizzou got under the number (+38) in a 43-6 loss. Is that what qualifies as a win for the downtrodden Tigers? | — | 9-0 |
| 2 | Oklahoma | Bye. Baylor's loss to TCU makes it — for now — a two-team race in the Big 12. (Oklahoma State is a game back.) That doesn't mean the Bears won't have a say in things. The Sooners travel to Waco this week sporting a nation-high 17-game winning streak. With Cincinnati and Ohio State slipping, who else are you going to put up here? OU is the second-best of the undefeateds. | 2 | 9-0 |
| 3 | Cincinnati | Apparently CFP Selection Committee chairman Gary Barta's dental work has become a topic of discussion on campus. A one-possession win over Tulsa that went down to the final seconds won't help Cincinnati break through the CFP's cement ceiling. | 1 | 9-0 |
| 4 | Alabama | The good: A win over LSU is always a positive. The bad: These Tigers were a 28.5-point underdog and hung on until the end. Bama rushed for all of 6 yards. A virtual bye this week against New Mexico State before Arkansas and Auburn. | 1 | 8-1 |
| 5 | Oregon | The Ducks won in the rain at Washington to continue their Pac-12 rein. Michigan State's loss helps the pursuit in the CFP. So does Ohio State's sluggish win over Nebraska. A bad, bad Stanford loss to Utah, though, makes Oregon's one L look bad. | 1 | 8-1 |
| 6 | Ohio State | Once again, Nebraska was within one score in the fourth quarter. Nebraska decided to shut down the run. That meant TreyVeon Henderson was held to a season-low 4.38 yards per rush, while C.J. Stroud had to throw 54 passes for the second time this season. The other time was in the loss to Oregon. | 1 | 8-1 |
| 7 | Oklahoma State | When you weren't looking, the Cowboys were becoming the dominant defensive force in the Big 12. I know, I know, it's only the Big 12, but after beating West Virginia, Oklahoma State has allowed only a field goal in consecutive games. His name is Jim Knowles. The Cowboys' defensive coordinator, that is. | 1 | 8-1 |
| 8 | Notre Dame | This is how you battle Navy's annoying triple option: get two sacks and six tackles from loss. Also, knock out the starting quarterback. With losses by Wake Forest and Michigan State, the Irish still have an outside shot at the CFP. Five of the nine teams ranked above them last week are likely to play each other down the stretch. | 2 | 8-1 |
| 9 | Michigan State | Kenneth Walker III did his part with 146 yards rushing. However, the defense was picked apart and is probably the reason the Spartans' playoff hopes are done. Purdue ran up 594 yards and scored 40 points. It's hard to make the playoff with the nation's worst pass defense. | 4 | 8-1 |
| 10 | Michigan | The Michigan State loss seems like a month ago. The Wolverines rebounded nicely handling Indiana at home. Lots of two tight end sets. Lots of Hassan Haskins (162 yards rushing). I get the distinct feeling Harbaugh can finally break through in the Big Ten. A three-way tie in the East looms if Michigan finishes strong. | 2 | 8-1 |
| 11 | Wake Forest | Only at North Carolina is there a field storming after beating … Wake Forest. Well, Wake was undefeated and blew leads of 14 and 18 points. And it was a nonconference upset. Sam Hartman did his part throwing five touchdowns. | 2 | 8-1 |
| 12 | Texas A&M | It's fair to call the Aggies the nation's best two-loss team. They're out of playoff contention, but a New Year's Six bowl is still within grasp. The only touchdown of the Auburn game came from the TAMU defense after, what else, a Bo Nix fumble. | 6 | 7-2 |
| 13 | Ole Miss | Hey, Lane Kiffin didn't post those tweets. The offending missives mocking Liberty — and former Ole Miss — coach Hugh Freeze were quickly removed. Freeze left Ole Miss in a crippling probation. Kiffin (and Matt Luke) have led the Rebels out of it. A 10-win season is still a possibility. | 1 | 7-2 |
| 14 | Baylor | Too much looking behind — beating Texas — led to too much looking ahead — this week against Oklahoma — for the Bears. The two-point loss to TCU means Baylor is still in the Big 12 race but needs help. A loss to the Sooners all but eliminates the Bears from the Big 12 Championship Game. | 3 | 7-2 |
| 15 | Iowa | With three games to go, it's a four-way tie in the Big Ten West with Wisconsin, Minnesota and Purdue. The Hawkeyes "exploded" for 17 points in a completely forgettable game at Northwestern. | — | 7-2 |
| 16 | Pittsburgh | The ACC's highest-scoring team scored high against Duke, hitting at least 51 points for the fourth time this season. Nice rebound after the Miami loss. The ACC Coastal is likely to be decided in the next two weeks with Pittsburgh playing North Carolina and Virginia next. | 1 | 7-2 |
| 17 | Purdue | Purdue holds the record for most wins by an unranked team over a top-five opponent (17), Jeff Brohm owns three of those wins, two this season (over Iowa and Michigan State). That's what $7 million a year will get you. Not bad for an under-.500 coach (25-28). But look who is tied for the Big Ten West lead with Iowa, Wisconsin and Minnesota. These guys. | NR | 6-3 |
| 18 | BYU | An easy win over Idaho State gave the Cougars their eighth win for a second straight season. That's a first for coach Kalani Sitake, who might get interest from USC. What a coincidence. The Cougars finish the regular season by playing Clay Helton's current team (Georgia Southern) and his former team (USC). | 2 | 8-2 |
| 19 | Houston | One of the most overlooked stories of the season. Two years ago, it looked like Dana Holgorsen's grand experiment failed. Remember when the Houston coach held back D'Eriq King? King's replacement, Clayton Tune, threw for 385 yards in helping beat South Florida. The Cougars have won eight in a row for the first time since those magical days under Tom Herman in 2016. | 2 | 8-1 |
| 20 | Iowa State | Matt Campbell's not going anywhere. Steve Sarkisian? The knives were out for the Texas coach over the weekend after a thorough thrashing by the Cyclones. Iowa State finds itself a game out of second place in the Big 12 and a spot in the title game with three to play. | NR | 6-3 |
| 21 | NC State | Dave Doeren has defeated Clemson and Florida State in the same season for the first time since he arrived in 2013. The Seminoles went down as Devin Leary threw four touchdown passes, giving him seven in his last five quarters. | 4 | 7-2 |
| 22 | UTSA | Ignored by the CFP, the Roadrunners dominated UTEP in their biggest game of the season. The Conference USA West showdown puts UTSA in charge of the division. The West will likely be decided Nov. 20 when UAB comes to town. | 1 | 9-0 |
| 23 | Arkansas | Mike Leach opened tryouts after a pair of Mississippi State kickers blew three field goal attempts in a loss to the Razorbacks. Dominique Johnson scored the game-winner with 21 seconds left to make Arkansas bowl-eligible. Coming after a pair of 2-10 seasons, they were justifiably calling the Hogs in Fayetteville. | NR | 6-3 |
| 24 | Coastal Carolina | Get to know Grayson McCall's backup, Bryson Carpenter. McCall wasn't able to go against Georgia Southern and is out indefinitely because of an upper-body injury. Carpenter threw for 85 yards against one of the nation's worst pass defenses. Appalachian State has the tiebreaker over Coastal in the Sun Belt East down the stretch. | — | 8-1 |
| 25 | Louisiana | If he's next coach at LSU or Arizona State, Billy Napier is going out with a bang. The Ragin' Cajuns have won 25 of their last 28, including eight of nine this season. A Thursday night win over Georgia State clinched the Sun Belt West. | NR | 8-1 |
Out: Auburn, Fresno State, Kentucky, SMU