2022 NBA Trade Deadline winners and losers: Ben Simmons, James Harden get their wish; Lakers stuck in neutral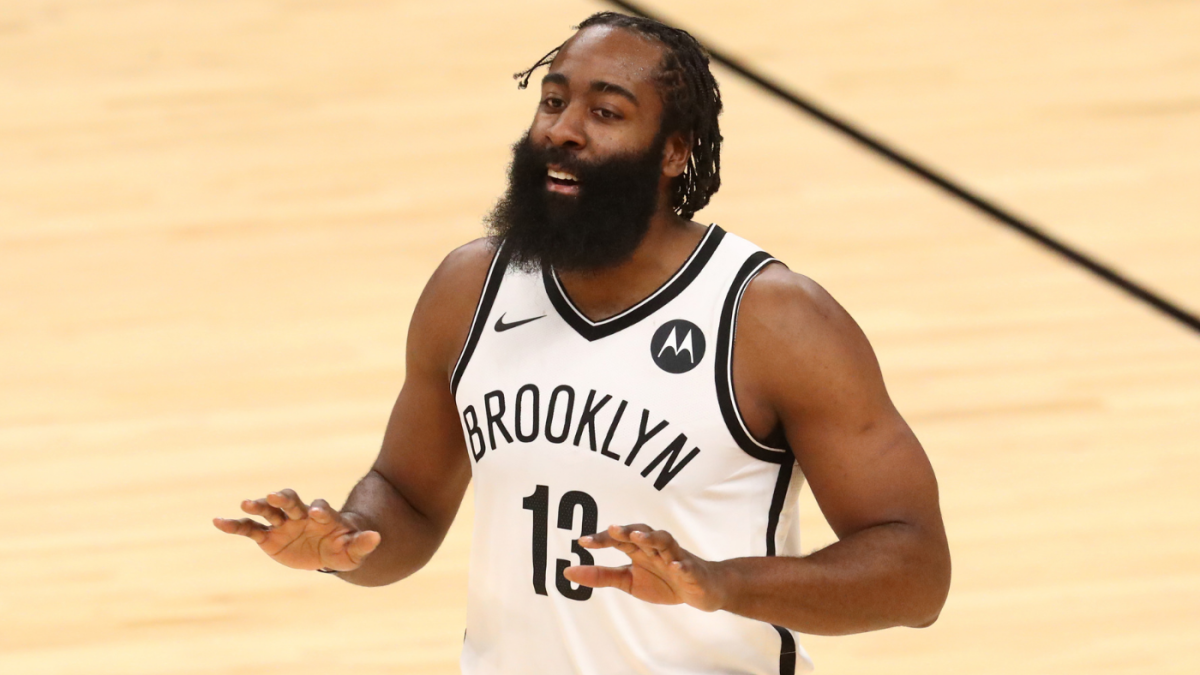 So often we build something up in our heads, only to feel severe disappointment when it fails to live up to expectations. That's why it's so sweet and satisfying when the opposite happens, and our wildest dreams are exceeded by reality.
The latter was the 2022 NBA trade deadline, which saw a combination of blockbuster deals involving superstar players, surprises that came out of nowhere, and nerdy roster maneuvering that would make the world's finest economists stand up and applaud. There was so much buildup about a potential James Harden-for-Ben Simmons trade that we almost convinced ourselves that it was a smokescreen, but the deal came through in all its glory to shake up the landscape of the Eastern Conference and the title race.
There's plenty to discuss from that deal alone, plus a whole lot more. Here's a recap of all the trades that went down, followed by the winners and losers from the 2022 NBA trade deadline.
Key trades ahead of Feb. 10 deadline
76ers pull off blockbuster for James Harden: Trade grades
Kristaps Porzingis is heading to the Wizards for a package that includes Spencer Dinwiddie: Trade grades
Celtics acquire Daniel Theis from Rockets for Dennis Schröder: Trade grades
Bucks, Pistons, Clippers and Kings make four-team deal: Trade grades
Raptors send Goran Dragic to Spurs for Thad Young: Trade grades
Suns acquire Torrey Craig from Pacers: Full details
Celtics trade Josh Richardson to Spurs for Derrick White: Trade grades
The Celtics moved PJ Dozier and Bol Bol to the Magic in a cost-cutting deal: Full details
Jazz acquire Blazers' Alexander-Walker, Spurs' Hernangomez in 3-team deal: Trade Grades
Kings give up Haliburton to get Sabonis: Trade Grades
Pelicans land McCollum from Blazers in seven-player deal: Trade Grades
Pacers send LeVert to Cavs for Rubio, picks: Trade Grades
Clippers acquire Powell, Covington from Blazers: Trade Grades
Knicks land Reddish from Hawks for Knox, protected 2022 first-rounder: Trade Grades
For in-depth analysis on every trade, click here.
Here are your winners and losers of the 2022 NBA trade deadline:
Winner: Ben Simmons
Say what you will about Simmons, but the young man never wavered from his desire. He clearly did not want to play in Philadelphia again, and was willing to endure endless criticism, threats and profanity from fans, along with tremendous financial losses through fines and withheld paychecks, in order to force the change of scenery. He called the bluff of 76ers president of basketball operations Daryl Morey, who boldly claimed he was willing to wait four years for a favorable trade, and now Simmons is headed to a contender in a premier market. After all the talk of mid-to-bottom-level teams like the Indiana Pacers, Houston Rockets and Sacramento Kings showing interest, Simmons has to be ecstatic that he's going to a Brooklyn Nets team that, if Kevin Durant is healthy, is still a legitimate threat to win the NBA title.
The tactics may have been unconventional and we can debate all day about whether what he did was fair to the 76ers organization, but in the end Simmons got exactly what he wanted.
Winner: Daryl Morey
Simmons may have gotten what he wanted, but so did Morey. Not only did the 76ers add James Harden, whom Morey has been infatuated with since their days together in Houston, but they also didn't have to give up prized rookie-contract contributors Tyrese Maxey and Matisse Thybulle in the deal. Our Brad Botkin broke down how Morey's patience with Simmons paid off, and now the Sixers are an unquestionable title threat with an MVP-level Joel Embiid.
Loser: James Harden, the teammate
First Harden was a driving force in the Rockets executing one of the worst trades in recent NBA history when they sent Chris Paul, two first-round picks and two pick swaps to the Oklahoma City Thunder in exchange for Russell Westbrook. Just a year later, the relationship between Harden and Westbrook had deteriorated enough that the Rockets traded Westbrook to the Washington Wizards for John Wall. After two consecutive downgrades at point guard, Harden then decided that he wanted out of Houston, showed up late for training camp and loafed his way into a trade to the Nets. Fast forward to last week, when Harden scored four points in a lackluster effort against the Sacramento Kings amid clamorous rumors that he wanted to be traded to the 76ers.
And here we are. With Harden constantly being dissatisfied with teammates and organizations, you have to wonder how long it's going to take until things go south in Philadelphia.
Winner: James Harden, the human being
I'm aware of the hypocrisy of praising Simmons for sticking to his guns while decrying Harden for the same, so I'll name him a winner here. Everybody is entitled to happiness, and Harden has clearly been searching for years for a situation that makes him feel comfortable. Hopefully, Embiid is the teammate, and Philadelphia is the city, that will finally bring him joy and peace.
Loser: Kyrie Irving
If Irving gets the vaccine and plays in every game this season, does Harden still want out of Brooklyn? We'll never know, but Harden was reportedly frustrated with "having to be the guy" on the Nets after thinking he was joining a superteam, and we know he's not blaming Kevin Durant for his injury. It's more likely Harden was upset that Irving was sent home for the early part of the season and can now only play in road games due to his refusal to get the COVID-19 vaccine. The Nets were considered the title favorite heading into the season and dominated teams with Durant, Harden and Irving on the floor together. Now we'll never get to see that core healthy in the playoffs, and Irving certainly shares part of the blame.
Loser: Los Angeles Lakers
The Lakers are in free fall, and just a few days ago LeBron James went on the record saying that he doesn't believe his current roster is capable of reaching the championship level.
"Do I think we can reach the level where Milwaukee is right now?" James said, via The Athletic. "Um, no. Is that what you wanted to hear? No."
Well, the trade deadline has come and gone, and no moves by the Lakers. Their roster will remain the same, with possible minor additions coming in the buyout market.
The Lakers were unable to find a suitor for Russell Westbrook, who has now been relegated to the bench during crunch time, and their reported refusal to include their 2027 first-round pick in any deals may have ended a lot of calls before they started. With how poorly the Lakers are playing, they probably needed a miracle at the deadline to save them. That did not happen, which has to be demoralizing for the struggling franchise.
Loser: New York Knicks
In a similarly sinking boat as the Lakers, the Knicks were reportedly looking to make a deal at the deadline. If adding talent wasn't in the cards, they at least wanted to offload some salary, but that didn't happen either. Instead, they'll take the same roster that has lost 10 of its last 12 games through the rest of the season, as they attempt to climb out of 12th place in the Eastern Conference. We certainly are a long way from "Bing Bong!"
Winner: Boston Celtics
The Celtics didn't make the sexiest moves, but Brad Stevens' first trade deadline in the front office was an unmitigated success. Boston brought in Derrick White, the type of player who seems like he'll thrive in a supporting role on a good team, parting ways with Josh Richardson and Romeo Langford to clear up a crowded backcourt. The cost was a first-round pick, but White seems more than worthy of relinquishing that asset.
Additionally, Boston sent out Dennis Schroder, Enes Freedom and Bruno Fernando and brought back old Celtic Daniel Theis. All told, the Celtics could have maneuvered themselves out of the luxury tax while improving their team, something that's very difficult to do in the modern NBA.
Loser: Dallas Mavericks
The Mavericks provided the biggest WTF moment of the trade deadline, sending Kristaps Porzingis to the Washington Wizards. When it was announced that Dallas would be getting Spencer Dinwiddie and Davis Bertans in return, we all kept refreshing Twitter to see how many future first-rounders the Wizards were attaching to the deal. We kept looking. And looking. And looking.
Turns out there were none. No first-rounders. In fact, Dallas sent out a future second-round pick to Washington along with Porzingis in exchange for Dinwiddie and Bertans. That seems like pennies on the dollar for Porzingis, even considering his injury issues and reportedly rocky relationship with Luka Doncic. Bertans seems like a good fit for Dallas on paper, but he's shooting 32 percent from 3-point range this season and is owed $33 million over the next two years. Dinwiddie has been downright bad this season coming off of his second ACL surgery, is set to make $18 million next season, and is positionally redundant with Jalen Brunson.
Speaking of Brunson, part of the reasoning behind acquiring Dinwiddie might have been to provide insurance in case Brunson leaves as a free agent this summer, with the Pistons reportedly set to make a big offer. If the Pistons are forcing your hand in a trade involving one of your supposed franchise centerpieces, it's probably not a good thing.
Winner: Washington Wizards
The Wizards made perhaps the sneakiest splash of the trade deadline, acquiring Porzingis and future second-round pick from the Mavericks in exchange for the bloated contract of Bertans and Dinwiddie, who was playing so poorly that his teammates reportedly wanted him traded. Porzingis isn't without his issues, injuries chief among them, but he and Bradley Beal would create a dynamic offensive one-two punch to build around. If Beal ends up being traded, Porzingis provides some insurance as a stop-gap No. 1 option. And even if Porzingis never ends up fully healthy, the Wizards didn't give up anything they wanted to get him.
Loser: Portland Trail Blazers
When the Damian Lillard trade rumors began swirling last summer, the idea was to put pressure on the Portland front office to help build a contender. About six months later, they've now traded away CJ McCollum, Norman Powell, Robert Covington, Larry Nance Jr. and Tony Snell, while bringing in Josh Hart, Eric Bledsoe, Justise Winslow, Keon Johnson, an injured Joe Ingles on an expiring contract, a protected 2022 first-round pick and three future second-round picks.
The stated goal was to create flexibility to upgrade the roster around Lillard this summer, but now presumed target Ben Simmons has been traded to Brooklyn and the deadline has come and gone with no further moves from the Blazers. Even if they free up cap space, Portland hasn't traditionally been a destination for marquee free agents, and the class is already pretty limited in terms of difference-makers. If the Blazers are rebuilding and planning on trading Lillard, the moves make total sense. If, as they say, they're still trying to contend with Lillard, not so much.
Winner: New Orleans Pelicans
Assuming Zion Williamson is going to play basketball again at some point, the Pelicans created a fearsome threesome (on offense, at least) of Williamson, Brandon Ingram and CJ McCollum. There are certainly still questions about the rest of the roster, but rookie Herb Jones has looked great and young big man Jaxson Hayes has taken a step forward of late. One thing is for sure, the Pelicans have a whole lot more hope with McCollum than they did before they got him.
Winner: Los Angeles Clippers
The Clippers were already defying the odds by being in playoff position despite zero games from Kawhi Leonard and an injury-plagued season from Paul George, and they beefed up the roster by adding a wing scorer in Norman Powell and a Swiss Army, 3-and-D forward in Robert Covington. The beauty of the acquisition is that it works in the short-term, making the Clippers a solid playoff team this season, and in the long-term, as both Powell and Covington will fit nicely alongside Leonard and George once they return. Add to the equation the fact that the only somewhat meaningful piece the Clippers had to give up was 2021 No. 21 overall pick Keon Johnson, and this is a home run deal for Los Angeles.
They were also able to cut $30 million off their luxury tax bill and create a trade exception by jumping into a four-team deal that sent Serge Ibaka to the Milwaukee Bucks. This was a great deadline for the Clippers.
Loser: Sacramento Kings
Despite the jubilation after winning their first game with Domantas Sabonis, the Kings made a bizarre move by trading away 21-year-old Tyrese Haliburton, by far their best asset and already one of their most efficient offensive players. Haliburton looked like the Kings' future floor general in a brief stint with De'Aaron Fox sidelined recently, and his ability to knock down 3-pointers and facilitate for teammates is thoroughly intriguing.
The Kings elected to pick up Sabonis, which, on paper at least, gives them an All-Star to pair with Fox to make a push for the playoffs in the near future. However, Sacramento already had a solid starting center in Richaun Holmes, who did not get traded at the deadline, and Haliburton is talented enough to make this deal look extremely short-sighted in a couple of years. Time will tell, but it seems like Haliburton was the one player the Kings should have refused to trade, and they sent him out for a very good player, but one who might not end up making a significant impact on winning.
Winner: Marvin Bagley III
Everybody deserves a fresh start, and that's exactly what Bagley finally received on Thursday. Injuries and the stigma of being drafted directly ahead of Luka Doncic, Jaren Jackson Jr. and Trae Young have led to a disappointing first four seasons of Bagley's career, and now he'll get a chance to start anew in Detroit, a rebuilding franchise with nothing but time to develop and nurture young players. There have been plenty of instances of talented players flaming out in one situation only to thrive in another — Bagley and the Pistons certainly hope that's the case.